Blue Flame Ultimate Pitching Machine Louisville Slugger UPM 45 shipping to France or Germany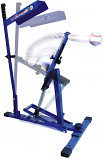 Louisville Slugger Ultimate pitching machine. Also known as the Ultimate Pitching Machine, UPM 45, Blue Flame and the spring loaded pitching machine. Light weight makes (extremely portable) - No electricity is required - Little League-approved in hundreds of leagues including Dizzy Dean and Dixie - CONSISTENT and AFFORDABLE!!! $179.95 plus Shipping and Handling USA.
LIMITED TIME SPECIAL: Plus 2 Free Replacement Springs This is a 46.95 Savings! And brings the price on the Blue Flame Ultimate Pitching Machine down to 152.05 WOW!! thats a BIG WOW! Spring offer only good for online orders through this site!
Shipping to France, Germany or Austria $105.00
Our price:
$199.00
+ shipping
(team/league prices available)